Hettich Hinges for Kitchen Doors
Hettich kitchen door hinges are ideal for replacing old and worn hinges or for new kitchen cupboard door installations. We hold excellent stocks of the hinges listed on our web site and where possible we have estimated current available stock* ready for immediate dispatch. See below for our quick hinge reference guide and our blog post for a more complete Hettich hinge guide to our Hettich Hinges application with drilling patterns.  *Occasionally our kitchen fitters will use them for our customer jobs so stocks cannot be guaranteed 100% accurate - feel free to contact us and we will double check.
Hettich Quick Reference Guide
Below is a quick guide to the most popular Hettich Hinges on our web site.
SKU
Alt Code
Hinge / Plate Description
Soft
Close
Opening
Angle
Door
Mounting
Drill
Schematic
Installation
Application
48049
1029518
Hettich 110° Intermat Hinge
No
110°
Overlay
B
Screw On
Integrated Fridge / Freezer*
9073605
9071205
Hettich Sensys 110° System 52 x 5.5
Yes
110°
Overlay
A
Screw On
Kitchen Doors
9073607
9071207
Hettich Sensys 110° Door Hinge 52 x 5.5
Yes
110°
Inset
A
Screw On
Kitchen Doors
9073608
9071208
Hettich Sensys 110° Hinge 52 x 5.5
Yes
110°
Overlay
D
For Pressing in
Kitchen Doors
9073614
9071220
Hettich Sensys 110° hinge 52 x 5.5
Yes
110°
Overlay
E
Fast fix
Kitchen Doors
9073686
9073567
Hettich Sensys 110° Door Hinge 52 x 5.5
Yes
110°
Overlay
D
Expanding Sockets
Kitchen Doors
9090109
–
Hettich Corner Cabinet Folding Door Hinge
No
50° / 65°
n/a
A
Screw on
Kitchen Doors
9099550
–
Hettich Sensys 165° Wide Angle Hinge
Yes
165°
Half Overlay
C
Screw on
Kitchen Doors
9099540
–
Hettich Sensys Wide Angle 165° Hinge
Yes
165°
Overlay
C
Screw on
Kitchen Doors
46787
–
Hettich Bi Fold Hinge
No
180°
n/a
F
Screw on
Kitchen Doors
9075081
9071666
Hettich Cross Mounting Door Plate 1.5mm
n/a
n/a
n/a
–
–
–
* Some Integrated Fridge / Freezers (F/F)require the cabinet door to be hinged to the cabinet.  Most of these types of F/F do not require soft close.  The main reason for this hinge is because it is thin in comparison to the soft close, and given that the F/F manufacturers want to make the unit as big as they can, it means there is little room for the hinge itself.  We have found this hinge works in most cases.  Consider hinge plate 9071665 0mm for an extra 1.5mm room.
Hettich Drawer Drilling Guide
Here is a guide for drilling holes for pan and standard drawers.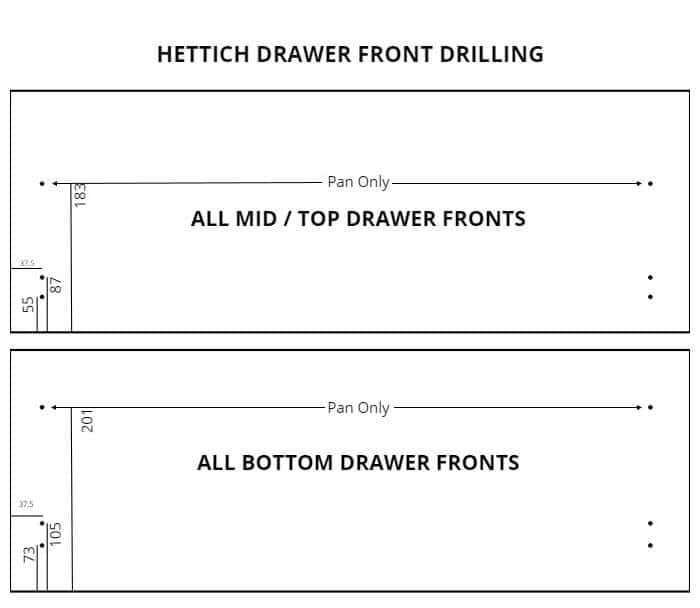 Hettich Hinge Video

The hinges feature Hettich's Sensys silent system which allows for smooth, gentle and quiet closing of the doors, with wide closing angle and almost closing itself. Further features of the Hettich Sensys kitchen door hinges includes:
Industry leading standards
Silent system with hinge arm invisibly built into the mechanism
Soft closing due to 35° closing angle
Optional cover caps for the hinge cup and arm
Shallow cup also allows for thin fronts
Hettich mounting plate works with Intermat hinges
Quick and simple to install
Hettich is a global business with over 6700 people employed including in the UK.