We have available on the web site a full range of our manufacturer's 5G next generation vinyl finished doors. These come with a limited 6 year warranty and are the latest high quality vinyl wrapped kitchen and bedroom doors. They use the most reliable adhesives and this gives you the most design flexibility and largest choice of door styles and finishes.
Kitchen Door Construction
There are a number of types of door construction. The vast majority available to buy on our web site are Ethos 5G, but we also have a number of 5 piece Shaker doors. We can also source a range of others, please just contact us. The various styles includes: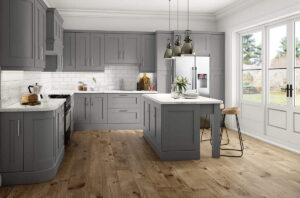 1. Ethos 5G Doors
These Ethos doors are '5G' next generation vinyl wrapped kitchen doors and drawers and available in Matt, Serica, Gloss or Paintable (see below). They have a robust premium finish with anti-fingerprint and scratch resistant surfaces. The finish is a 3D Thermoformed polymer finish with next generation adhesives to stick to the Wooden MDF core. The diagrams in the finishes / colours sections show the construction of the door but as an overview includes:
0.4mm PVC Exterior Face
Polyurethane Dispersion adhesive
18mm or 22mm E1 GradeMD PEFT / FSC accredited core
Melamine coated backing interior
Protective film on the front
Six year warranty
Made to measure almost any size
All available to buy on-line on our web site.
We have the full range of 5G doors as samples at our Kitchen Showroom for you to view. Alternatively, please purchase a sample door.
2. Ethos 5 Piece Doors
A more traditional style door, this has a handmade appearance that added the benefits of durability and flexibility in a choice or shaker doors. We currently have the Bastille, Fenwick and Tuscany available in this range.
Choice of classic or contemporary shaker look
Wide choice of colours and finishes
Made to measure and almost any size
Micro texture or embossed vinyl surface gives extra durability
MDF 22mm core wrapped in vinyl
Wood effect finishes
Durable Construction
Construction diagram available on the product page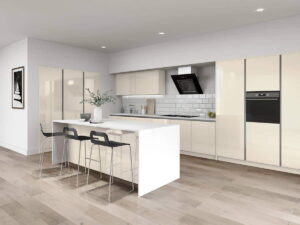 3. Edged Contemporary Kitchen Doors
These are available from our kitchen showroom and available to buy on-line soon. Flat contemporary doors for modern sleek kitchens with bonded acrylic doors.
Available in Matt, Serica or Gloss finishes they are fabricated with the following spec's:
18mm thick
Compatible with the integrated Zenith handle
Ideally paired with the Ethos True Handless Rail System
Six year warranty
Choice of Phoenix, Tribeca, Soho, Vaasa, MFC core and Mather door styles
Various base material including Acrylic Laminate and E1 Grade MDF Board
Five door styles Phoenix, Tribeca, Soho, Vaasa and Mather
When we launch these doors, please view the product page for the exact make up of the doors.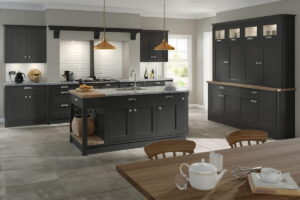 4. MDF Painted
A select range of door styles with a painted finish that is durable and last even for the most hard working kitchen.
Choice of styles including J-Pull handless, slab style and traditional shaker (90mm stiles)
Painted finish – smooth matt or grained matt
Range of up to 28 painted colours including unfinished, primed, white, porcelano, pebble, light grey, dust grey, nautical and more
Available in standard and made to measure sizes
Express delivery for eight finishes and standard sizes
Paintable 1mm ABS edging
Six door styles Luzzi, Arena, Tenby, Belair, Hyde and Hartford
Painted Solid Timber Doors
Popular range of solid timber doors either factory paint finished or with the option to be painted by the customer themselves. A choice of five Ash doors and one Oak solid timber door, they are either manufactured with a 20 or 21mm width:
Six Timber doors – Edison, Monroe, Albany, Hampton, Greenwich Ash and Greenwich Oak
Unfinished, primed or up to 28 painted colours including white, pebble, graphite and more
Express delivery available on some colours
Made to measure doors available for all sizes
Choice of styles including Shaker and Raised Panel
Available to buy on-line soon, contact us if this style is of interest.
Trade Kitchens
As part of our trade kitchens range, we have a number of basic doors available to purchase with cabinets, hinges and drawers all in one code. Follow the link for more information.
Ethos 5G Door Finishes / Colours
How to Measure your Doors Video
Not sure how to measure your doors, Jamie and Scott have this short video to show you how.
How to Measure The Hinge Drilling Holes
Where to measure the distance from to have your hinge drilling holes is explained in this video by Jamie and Scott. Also explained is which side you have the holes drilled – looking at the door. The key take aways are :
Measure the centre of the existing hinge
Measurements are always taken from the centre of the hole
Hinge holes are always measured from the closest edge
Measurements are always done in millimetres
How to Buy Video
Below is a video making a selection on a mobile phone and adding the various options. To select a bespoke size, choose the size above and drag the slider down to the required size. You can also go up 5mm.
Next Steps
We offer a sample colour swatch service, sample door service and an email photograph consultancy service if you are adding or replacing existing kitchen doors. If you require more than just one or two replacement doors and more like a full kitchen, we are happy to guide you through the process and prepare a saved basket for you.
As an established kitchen design and fitting business, we can also supply the cupboard and drawer carcasses and worktops, they just aren't available to purchase on-line yet.