Elica Hobs and Extractor Cooker Hoods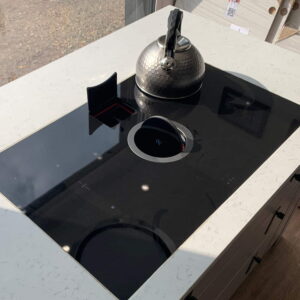 The Elica range of kitchen appliances is a brand we specify when designing, supplying and fitting premium kitchens from our kitchen showroom. They have an excellent range of hobs, cooker hoods and the NIKOLATESLA range of gas and electric hobs with built in extractor. Some of their latest products even have built in weight scales.
We can supply the full range of Elica products and have a select few available to buy on-line.
Features / Benefits
We list these on our hob pages, but these are the expanded explanations:
Multi Flexi Space – with the multi flex space design you have more space available both in length and width when using large pots. You can slide the pans from one burner to another without lifting them
Dual Burner – The Dual Burner is ideal for small or large pans. The innovative burner features a double crown with independent ignition of each burner, so perfect for both a small coffee pot or a large pan
Bridge Zone – This function lets you merge 2 adjacent cooking zones, maintaining a uniform, constant temperature, even when using very large pans
Child Lock – the Child Lock function prevents the hob's cooking zones or extraction being turned on accidentally
Temperature Manager – Your dishes will always be cooked at the perfect temperature when you use this function that lets you set the hob with 3 programmes (42, 72 or 92 degrees).  The temperature settings have been optimised for both very delicate cooking (mousses, sauces, keeping dishes warm) as well as cooking at high power (boiling).
Power Limitation – When you do not have a powerful enough electricity supply available you can set the power limitation during installation to limit the maximum power absorbed by your hob
Timer – Forget about cooking times by turning on the timer. Just set the minutes and start the countdown. At the end, the cooking zone will automatically switch off and a beeper will sound.  You can set independent timers on more than one zone at the same time
Keep Warm – The Keep Warm function keeps dishes that have just been cooked warm or re-heats a dish that has gone cold.  This is useful if you cook at one time but want to eat at a different time.  The Keep Warm function can be enabled for any zone.
Stop & Go – If you are interrupted whilst cooking, or you have to go into another room, or you just want a break, with just a single touch of the Stop&Go button you can switch off all the cooking zones and walk away with complete confidence and safety
Pause & Recall – With Pause & Recall you can switch off all the cooking areas with one single gesture and then, restart them with a simple press of a button at the same previously set power
Pot Detector – With Pot Detector, the hob automatically detects the presence of the pot on the cooking area and provides heat only when it is correctly positioned
Duct Size – It is essential that the correct (or larger) size of ducting is used otherwise the performance will be significantly affected and the noise increased. Increasing the length and the number of bends in ducting will significantly reduce the airflow
Minimum Height – Gas Hob – the minimum height above the top of the pan supports of a gas hob that the hood can be installed. This is subject to the installation instructions produced by the hob manufacturer which should be checked before any design is finalised
Minimum Height – Electric Hob – The minimum height above the top of the pan supports of an electric hob that the hood can be installed.  This is subject to the installation instructions produced by the hob manufacturer which should be checked before any design is finalised
Elica Video