Summer is almost here… unfortunately for the UK the matching weather is yet to make a reciprocating appearance! However, in the past, late starting summers tend to result in a prolonged late summer and BBQ season well into Autumn. Let's hope so anyway! The beauty of this means for those of you still waiting to make the most of your back garden it gives a little extra time to plan for maximising outdoor social cooking and parties.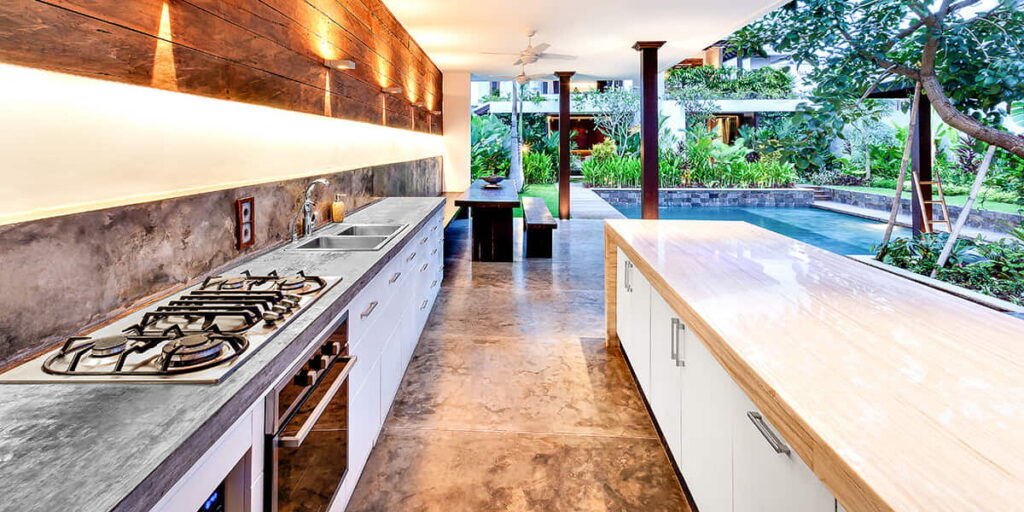 Across Southern Europe and the warmer climates of the US and Australia, an outdoor kitchen is an essential part of your home. It allows for growing your house beyond its walls and into your outdoor space, meaning entertaining is easier and can accommodate more people in a free-flowing way.
UK Outdoor Kitchen Living
The desire to cook on more than just a wheely BBQ has increased in popularity over recent years with initial trends of a fire pit and maybe a pizza oven to installations of full working garden kitchens. This sophistication has seen cooking appliances that will work just as well in an outdoor space as will do indoors. We have rounded up some outdoor kitchen living ideas for all budgets below:
1. Alfresco Dining Spaces
House design has been incorporating more sophisticated bi-fold doors that have become a must for any new build or extension. Homes that can be opened can expand living space by more than double. Creating a dedicated dining area within the outdoor kitchen is a growing trend that includes a spacious table, comfortable seating, and soft LED lighting options for evening dining and entertaining.
The rise of this longer outdoor living period is enhanced with furniture and accessories such as firepits, garden weatherproof decorative rugs, comfortable outdoor seating in an array of styles.
What had led the way for years was the rattan look, but even that now is dying out in favour of super stylish and generously more comfortable padded metal and wood seating areas at super low prices. This is in stark contrast to yesteryear and the old-fashioned folding garden chairs and uncomfortable plastic dining set!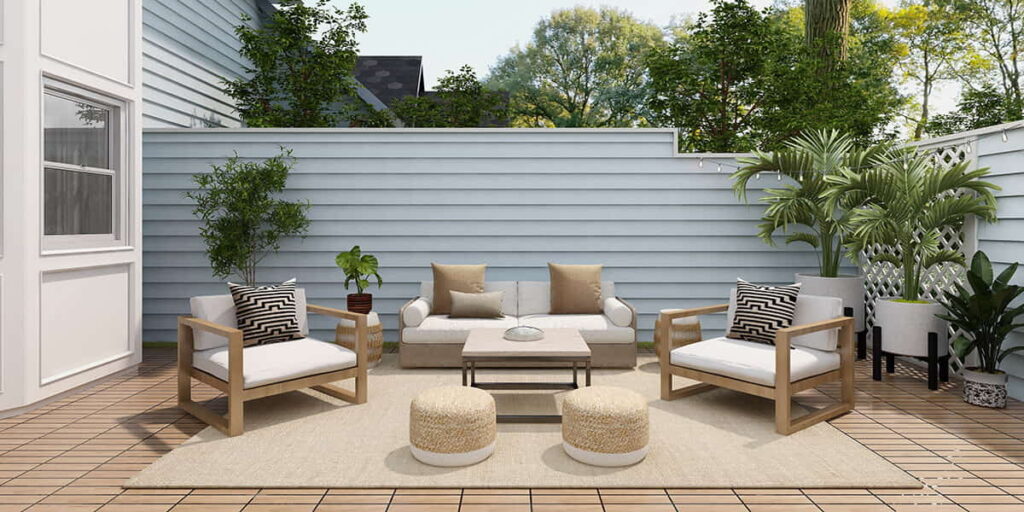 These modern seating areas allow for more comfort and relaxation while spending time enjoying your open spaces but with year-round durability, which is definitely needed in the UK considering we still get four seasons in one day for all bar three days of summer.
2. Outdoor Kitchens and Roof Structures
To make outdoor kitchens more functional throughout the year, some homeowners are adding roof structures, awnings or pergolas to provide shade and protection from the elements. This enables you to enjoy cooking and dining outside even during light rain or strong sunlight. Awnings can be costly, but are also fully retractable back onto the wall, providing a simple option for protection from the elements.
3. Fire Pits and BBQs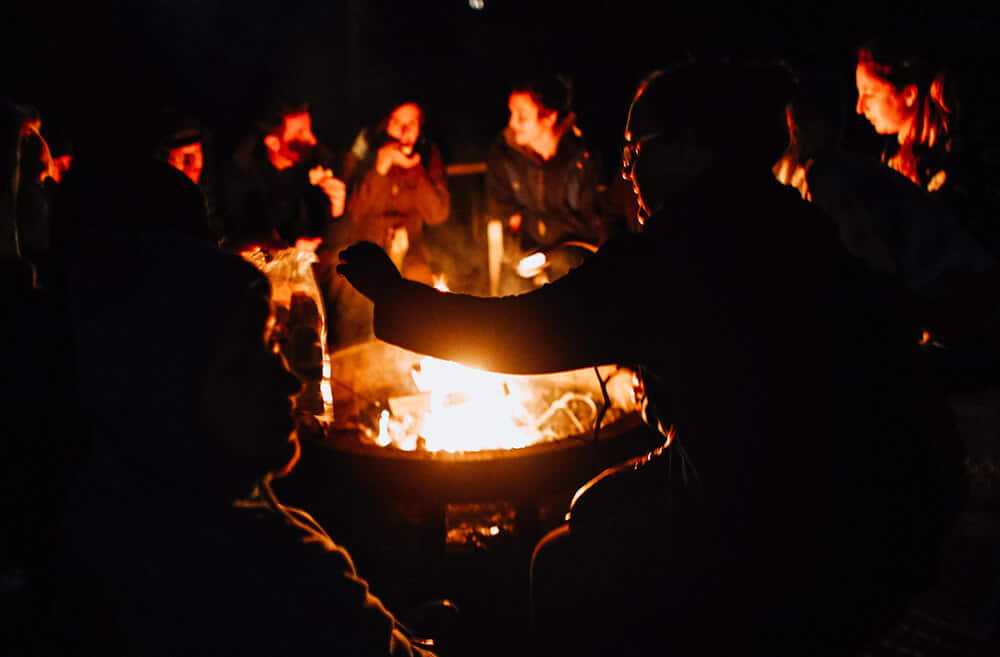 Even on the warmest of UK evenings, the temperature can drop quickly as evening becomes night. A fire pit or even a barbecue are a boon for prolonging the entertainment outdoors. The other benefits of fire pits are that they become a focal point for your gatherings and allow for grilling and cooking outdoors. Barbecue's have been significantly more sophisticated over the years with a huge range of options for smoking, sizzling, grilling and more.
4. Outdoor Pizza Ovens
Pizza ovens have become a staple in many outdoor kitchens. They allow you to create delicious wood-fired pizzas in your garden, giving a unique and authentic taste to your homemade pizza creations. There is a choice of wood fired, gas or electric pizza ovens available for purchase from just a few hundred pounds. If you are feeling creative then you can of course build your own!
Many bar-b-q's can also double as a pizza oven, for example the Traeger 'Smart' bar-b-q we have posted a video of below.
5. Outdoor Kitchens
Stepping it up another level to the ultimate outdoor living, we were recently at a trade show and impressed at how sophisticated outdoor kitchens have become, coming a long way from the original charcoal bar-b-q! One German manufacturer in particular caught our eye with some stunning outdoor cooking areas with integrated cabinets, drinks chillers / fridges, gas cookers and more. There is also the choice of free standing or on wheels for easily moving indoors for over wintering if you have the room.
6. Outdoor Bar and Drinking
Creating an outdoor bar area is becoming increasingly popular. It can include a built-in bar counter, storage for drinks and glasses, and even a small refrigerator. It's a great way to entertain guests and keep drinks cool during summer parties. Even the most compact of living spaces can now accommodate outdoor kitchen living with having to continually go indoors for supplies to keep the party going.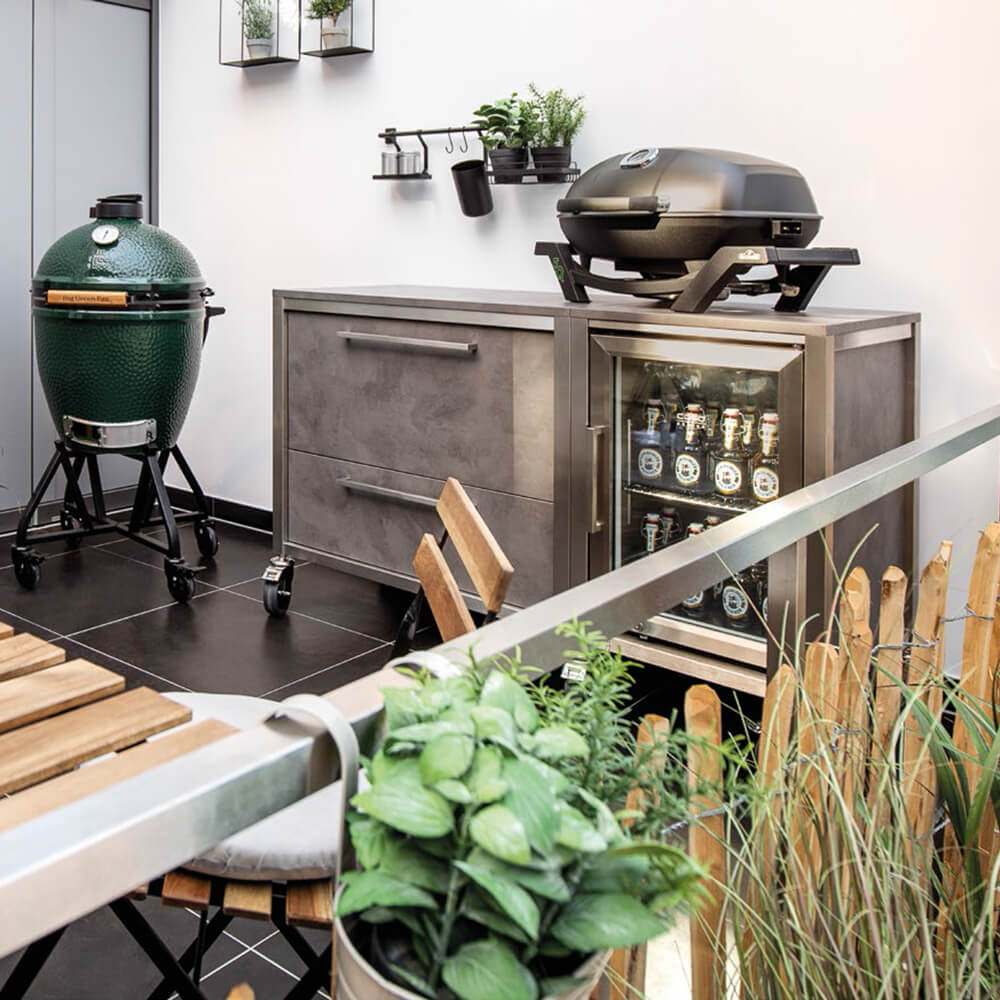 7. Sustainable and Eco-Friendly Design
Environmentally-conscious design elements are high on the list of eco conscious customers. This includes using sustainable materials for countertops, cabinets, and flooring, as well as incorporating energy-efficient appliances and water-saving fixtures. There is also the choice of fuel with CO2 emissions and smoke regulations to consider. Re-creating the traditional wood smoked taste cannot readily be replicated with electric fire pits or barbecue's!
A trend we are seeing as well is incorporating small herb and vegetable gardens into their outdoor kitchen spaces. It allows for easy access to fresh ingredients while cooking and adds a touch of greenery to the overall design. There is nothing tastier than home grown ingredients being brought straight from the garden to the kitchen.
8. Technology Integration
Integrating smart technology into outdoor kitchens is right on trend and this can cover not just the kitchen but smart lighting, remote-controlled appliances, and voice-activated systems. Your Bar-b-q can also be smart, taking the guess work out of whether it has reached the correct temperature for slow cooking and food, adjusting the fuel as required with smart phone alerts to keep you updated. Below is an example of a Traeger wood pellet grill that is integrated with your phone and auto fills wood pellets for optimum heat and smoke. The only thing to note is to keep the wi-fi signal in range of the bar-b-q.
How to Implement your Outdoor Kitchen
Many people look at these Grand Design style houses and think, I could never afford that! But as you can see from our roundup of trends and options, there are a surprising number of outdoor living ideas from a huge range of suppliers to cover all budgets.
If you are looking for entry level options, the likes of Costco and Argos and online retailers like Appliances Direct all offer low cost options so there really is an outdoor kitchen option for every budget.
If you really want to make a splash with a larger budget, it is worth working with a kitchen design company to bring in ideas for a full makeover that will last many years and add substantial value to your house.
It is worth remembering though that whatever the budget, the best outdoor living is made up of the company, the quality of the food, drink and culinary skills – no one should have to put up with a burnt but raw sausage in 2023!
Why Invest in Summer Kitchen Living?
We think Covid has a lot to do with the shift from eating out to outdoor entertaining. It got us used to maximising how we use our personal space.
Having your own indoor / outdoor dining options means you can Insta style to your hearts content and always include all family members, and if you really want to go the whole hog installing heat panels, wind breaking screens, outdoor tv's and even a hot tub on the side. This means you have all bases covered for being able to use your space to its absolute maximum capacity for almost all seasons.
So, we think that the Outdoor Living Kitchen trend is here to stay! … after all nothing brings people together more than food and drink!