HKUK is the on-line trading division of The Hamilton Kitchen Company which supplies our customers in Herts, Bucks, London and the surrounding areas with the design, supply and installation of new kitchens. A key part of the process is meeting (Covid allowing!) with our customers, understanding what they are looking for and going through their options.
We do this from our kitchen showroom where we have a several example kitchen installations with a range of worktops, cabinets, doors, appliances and much more. In addition, we also have many samples held in stock for you to visualise, touch and feel your new kitchen. Once you have made a selection, we then provide fully rendered visuals and a quote.
Below are a few photos of the kitchen showroom and some of our featured brands:
Kitchen Display One
Light concrete effect MFC finish slab doors with integrated Caple appliances including fridge, dishwasher, Caple induction domino hob, sink and tap. This kitchen is designed for an 8ft galley space and has deceptive levels of storage. Worktop is 30mm new Belgium Blue satin quartz with a black glass splashback and knurled bar handles to finish.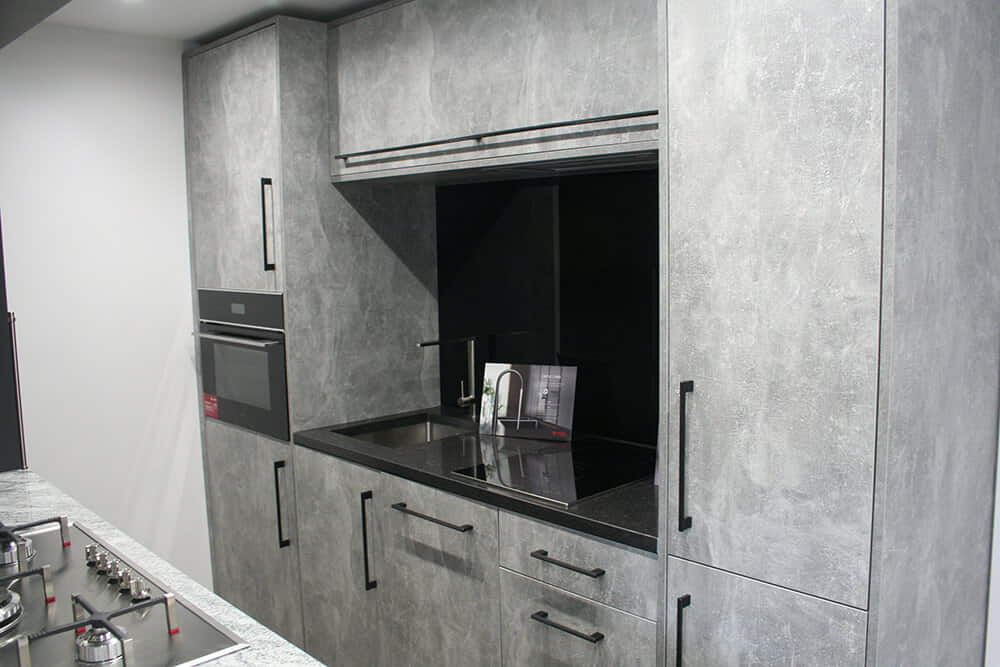 Kitchen Display Two
1909 in-frame shaker doors with an Ovolo frame finished in Hertforth Blue. The 1909 is a solid 24mm Alder wood frame and door with a veneered centre panel. The ceramic Belfast sink and traditional two lever taps. Smeg Victoria pizza oven and steam oven. Marton chrome cup handles. The worktop and splashback is Arabescato Michelangelo in a Satin finish by Lapitec.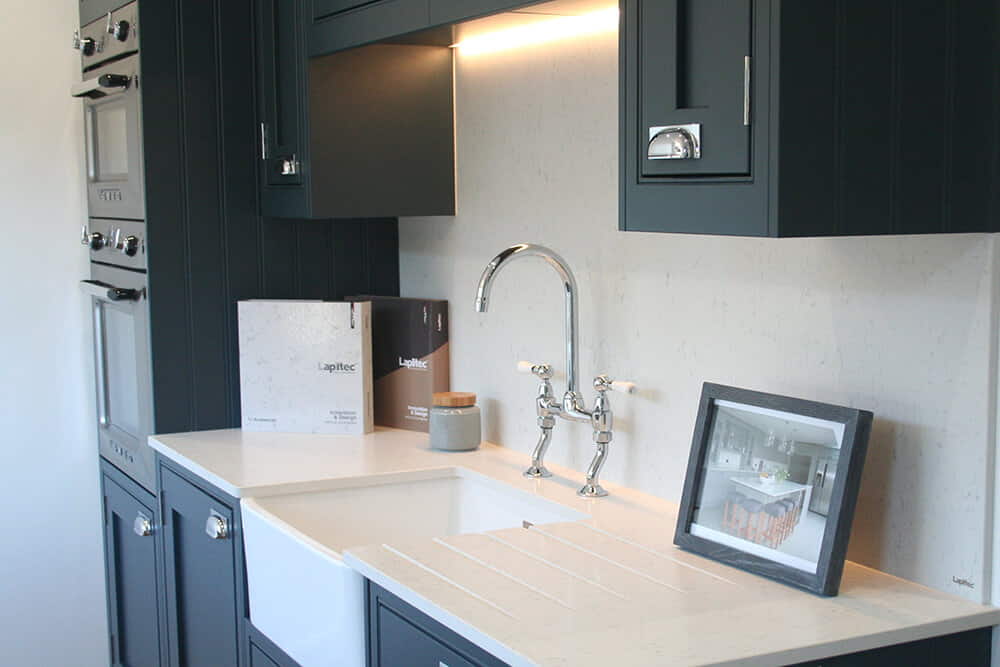 Kitchen Display Three
Tribeca range in Serica graphite finish with a ply edge. The worktop is a solid marble with integrated gas hob and 900mm extra wide oven by Smeg.
Kitchen Display Four
1909 Dry Rose slab in frame island with Bora induction extractor hob classic II with additional Elica extractor above the hob. The Elica extractor has a remote control pad on the worktop which is also Arabescato Michelangelo in a Satin finish by Lapitec. The island features a heavy weight pull out 1909 chopping board slab and tray.
Kitchen Display Five
Arena doors finished with denim matt paint with integrated J handle. Lapitec worktop and glass splashback with Smeg and Caple appliances (toaster, coffee, microwave, wine chiller and dishwasher). The hot water tap has since been updated with a Quooker hot water tap.
If you would like to visit the showroom as and when restrictions are lifted, please contact us.