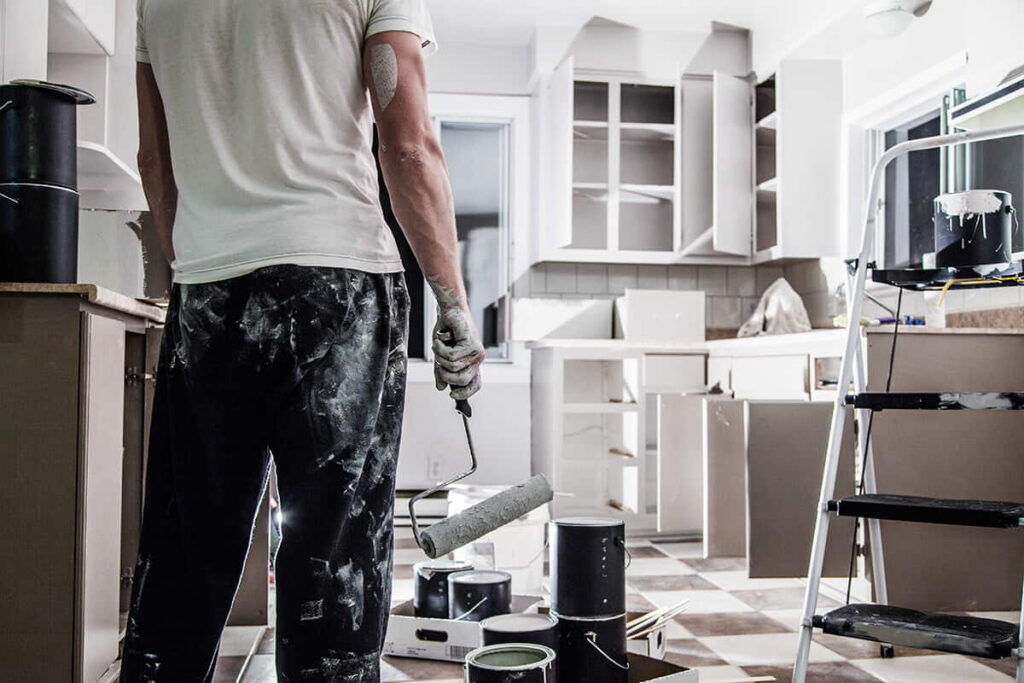 One of the most expensive purchases you will make in your home is your kitchen. If you have just moved into a property and simply can't afford a full new kitchen but truly hate looking at your tired and dated units, many people now turn to a quick and simple kitchen makeover in the form of painting.
Can You Paint Over Greasy Kitchen Doors and Walls?
To prep the kitchen cupboard doors and walls for painting you will need to use sugar soap to remove the built up grease. Without this prep and applying paint straight away, you will soon see your first painted door not dry and bubble up!!
Now painting may seem like a good idea at the time, but often after a few doors down you start questioning your life choices, with a mild despair of underestimating the length and work involved to do the job properly! What seemed like a relatively simple task now makes you want to turn back time and just live with your functional old 1960's kitchen even if you hated it, because guess what? You now hate the smell of sugar soap more, and miss the skin that used to be on your fingertips from Brillo pads removing years worth of grease.
How Hard Can a Kitchen Makeover Be?!
You watched Alan Carr on Interior Design Masters one too many times, and thought boldly… "It can't be that hard!" Well now you know, and you're halfway through a job that feels like it will never end and where do you turn? In the words of Mrs Doubtfire "help is on the way Dear!"
Low Cost Kitchen Renovation by HKUK
At HKUK we know that not everyone has the cash available for the cost of a whole new kitchen which is why painting a kitchen seems such an attractive option for a kitchen refresh. As well as being expensive, a complete new kitchen is a big job and ideally requires professional kitchen fitters to install whilst also leaving your house in complete disarray and leaves you living off takeaways for several weeks while your new kitchen is installed and eventually becomes serviceable.
In addition, more people are looking out for the environment so throwing a dozen or more perfectly good cabinet units in a skip just because you only see the doors is a complete waste. So here is the compromise low-cost alternative to spending all your savings on a complete new kitchen or waiting another couple of years to be able to afford a complete replacement kitchen.
Just Replace The Doors and Drawers!
Yes there is now a way to completely makeover your kitchen for less… and without as much mess and stress! We have a complete range of replacement kitchen doors, panels, kitchen cabinet units and matching trims available in 7 ranges of door styles depending on your desired look. With up to 47 different colour/finish options available in our prefinished door selection, or a range of paintable doors too which means you can have simply whatever colour you choose without all the prep work first. You can even order up to 5 sample swatches to be sure before you complete your order.
How Easy Is It To Buy Just Kitchen Cupboard Doors?
How easy is it?? Well, we like to keep things as simple as possible, so all you need is your door and panel sizes and from the images and drop down lists you can create a simple shopping basket to suit. If you choose the prefinished ranges all you will need is a screwdriver and small drill. If you choose to opt for the paintable door ranges then you can have clean unfinished or primed doors that you can paint first without having to pull the kitchen apart to do the job, then simply change or refit your hinges and fit the new doors, panels and trims to suit. Total time including painting should be less than 2 days and without all the mess and fuss… and the prefinished ranges would be a matter of hours to complete depending on the size of your kitchen.
The best bit… you're don't need to be an expert! We even have a dedicated team to help you build your basket. All you need to do is drop an email over with your sizes and we will even help you get everything you need… kind of like a personal shopper! Saving you even more money! That is how you TRULY make over you kitchen for less!!
Happy saving, and happy painting guys.