Description
The Monroe range of solid Ash timber wood range is available from stock as raw or primed ready to be painted.  As this is a stocked door range, the delivery is normally much quicker, within a few days (assuming normal stock levels).  The raw / primed doors, drawers and accessories are available to purchase on-line. If you require made to measure or painted, please contact us for a quote.  Painted will have to be collection only from our showroom in Chenies.
Monroe Technical Specifications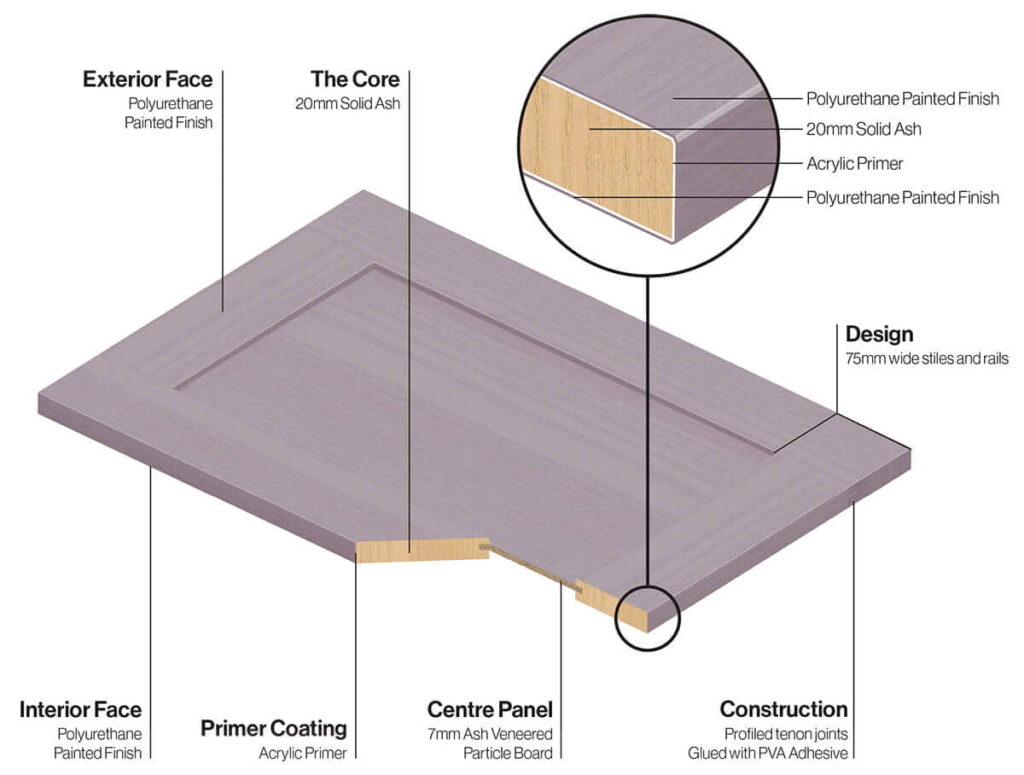 Range Options
Solid Timber Doors – door sizes between 283mm – 1245mm high, 246mm – 996mm wide
Solid Timber Drawers – drawer sizes between 50mm – 200mm high are supplied as flat panels as standard
Maximum drawer width is 1196mm, minimum width 100mm
Stile width will be reduced as necessary for Pan Drawers sized below 296mm wide
Stile width reduced as necessary for doors below 296mm wide
Angled Doors not available
Curved doors, Frames are available
Curved timber doors are made to suit 300 x 300mm cabinets only. Solid timber curved doors are available in standard sizes only
28 painted options but only in stock sizes ie not made to measure and collection only from the showroom.
Primed doors in standard sizes normally available with a few days
Made to measure painted take around 2-3 weeks, occasionally more, check current lead time with us
Monroe Accessories
Some of the below are available to purchase on-line on this page.
Classic Cornice (grained) 3050mm
Curved Classic Cornice (grained)
Classic Cornice Quadrant (grained)
Modern Cornice / Pelmet 50mm (w) x 30mm (h) x 3050 lengths
Curved Modern Cornice Pelmet / 350mm (l) x 350mm (w) x 30mm (h)
Modern Cornice / Pelmet Quadrant / 50mm (l) x 50mm (w) x 30mm (h)
Tangent Light Pelmet / 18mm (w) x 57mm *h) x 3050mm lengths
Curved Tangent Pelmet 300mm (l) x 300mm (w) x 57mm (h)
Plain Plinth 18mm (w) x 150mm (h) 3050mm lengths
Curved Plain Plinth 540mm (l) x 232mm (w) x 150mm (h)
Torus Plinth 18mm (w) x 150mm (h) 3050mm lengths
Radius Profile / (r48mm) 70mm (w) x 50mm (h) 3050mm lengths
MTM Corner Post 715mm (150 x 150mm)
Square Base Pilaster 965mm (l) x 70mm (w) x 50mm (h)
Square Base Pilaster Insert / 965mm (l) x 19mm (w) x 19mm (h)
Plain Panel 18mm thick
Turned Pilaster 57mm (w) x 900mm (h)
Wine Rack Rail 1200mm (l) x 18mm (w) x 60mm (h)