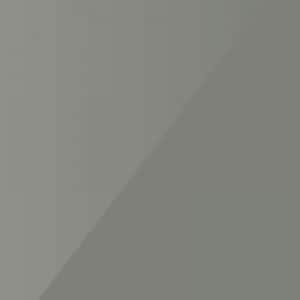 Dust Grey is a 5G gloss vinyl finish available in a range of sizes and styles for our replacement kitchen doors. The luxurious, bright lacquered gloss finish is perfect for creating a smooth, polished look.
Matched Reverse
Dust Grey has matt Dust Grey as the reverse colour.
Other Manufacturer Kitchen Door Matches
| | |
| --- | --- |
| Egger | U732 ST9* |
| Kronospan | 0171 PE |
| Pfleiderer | n/a |
| Finsa | Gris Tormenta S.3 |
| Sonae | n/a |
These board match references are only suggested colour matches. We strongly advise obtaining a sample from us in order to confirm a satisfactory match between the cabinet MFC and PVC door finish.
We recommend Pressed or Laminated Panels for the closest match.